02-19-2023, 08:02 AM (This post was last modified: 03-07-2023, 06:22 AM by Saeki Amae.)
Intro:
Hello! I'm happy to introduce you MeshFix v2, the successor of the TexFix 1.2.1 tool.
This tool has been made to make copying stuff from SL as
easy
,
comfortable
,
quick
and
cheap
as possible.
Features:
I. Mesh Helper/MeshesSL features:
    1. Conversion from XML to a single or multiple Dae files
    2. Ability to download SLM files and textures (files in cache not required)



II. Improvements over Mesh Helper/MeshesSL:


    1. Full transparency (you don't even have to think about turning xmls into daes -
    the program turns XMLs into Daes as soon as it discovers them in input folder 
    and even copies their address for you, basicly allowing you 
    to open mesh uploader after saving XML without leaving the viewer at all)
    2. Support for static mesh
    3. Increased speed due to using all CPU cores - especially visible during exporting 
    linksets with many prims or multiple linksets in one XML
    4. Increased stability - the app doesn't freeze during working,  shows the work's progress 
    with ProgressBar and meanwhile allows you to do other stuff
    5. The mesh appears to load faster from daes generated by this app (at least for me)
    6. Fixed various bugs



III. All TexFix features:


    1. Ability to automaticly apply textures and other face params on the uploaded mesh
    just like they were in original object without paying any L$
    2. Ability to apply multiple textures and other face params options -  
    just like texture appliers/changers/HUDs do
    3. Smart grouping faces into Slots for easier texture applying



IV. Improvements over TexFix:


    1. Two face-grouping engines to choose: Slots and Switches - making it possible to
    perform even advanced tasks - read the manual for more info
    2. Ability for a Slot/Switch to use the names instead of numbers in commands 
    3. Ability for an Option/State to use the names instead of numbers in commands
    4. Option/State ramdomizer
    5. @nooder requested ability to apply same Option/State number/name to all Slots/Switches
    6. Ability to apply non-face options like positions, shapes, phantom checkbox etc.
    7. No more root naming issue and ability to change prim names without problems



V. New Features:


    1. New GUI interface instead of command-like program
    2. Project Management - allows you to keep all ripped projects in the GUI -
    no more messing with file explorer to find stuff - all kept tidy and clean in the app
    3. Project filtering by a category or project names (regular expressions support!)
    4. Built-in prim editor allowing to enable/disable or delete prims from the linkset and
    edit its params (like prim name, description, position, rotation and so on)
    5. Built-in face applier editor allowing you to give Slots and Switches names and
    modify their behaviour - switch face applier engine, choose which face params the app
    should ignore and which it should take into account and other.
    6. Built-in Option/State editor allowing you to modify, delete and add new Options/States
    of your Slot/Switch
    7. Built-in texture viewer allowing you to view and export applied textures as .png -
    the textures don't have to be in cache
    8. Built-in color picker while modifying face colors in Option/State editor
    9. Support for legacy prims linksets, static mesh linksets, rigged linksets and even..
    mixed linksets! So you can upload your static mesh and rigged mesh in one dae, and then
    the script will add all needed legacy prims with proper params to it automaticly -
    no more problems when your linkset has both legacy and mesh prims!
    10. Automatic root restore - allows you to restore the original root prim -
    normally the mesh uploader changes the root prim of the linkset
    11. MultiDae feature - allows you to export multiple linksets in a single Dae - 
    allowing you to lower the cost of the mesh upload.
    Example: 10 linksets with 1 simple mesh in each normally cost you (10 + 1) * 10 = 110 L$
    With MultiDae feature it will be 10 + 1 * 10 = 20 L$ -  nice savings right?
    12. The Script to break the linkset uploaded with MultiDae back into normal linksets
    so you don't waste time trying to relink it manually
    13. Align function, allowing you to position multiple linksets to each others
    just like they were in original - allowing you to copy designs from
    a simple two-linkset setups up to entire sims.
    14. Dedicated file format - allowing you to share a single or multiple projects 
    (with all texture options, files etc.) with your friends or on the forum
    15. The built-in manual split into pages for easier reading
    16. Surely some more that I simply forgot to mention about - best check yourself!



VI. Plans for future:


    1. Dedicated HUD for applying data to Clients
    2. Adding support for applying material params of faces and more non-face params,
    when the viewers start exporting this data in XML (politely please, someone makes it happen! <3)
    3. Adding support for GLTF materials when they become a thing in SL and the viewers export this data 
    4. Adding support for OpenSim (only SL is supported for now)
Installation:
1. Download the latest version of this tool from the link down below.
2. Unpack the MeshFix2.exe file to the location without writing issues - my documents or something like that.
3. Start the program.
4. Read carefully the agreement that appeared on your screen.
5. Make sure you understand it and accept the terms and click "I accept!" button.
6. Go Help->Manual or just click F1 button in order to open built-in manual.
7. Read the manual carefully in order to learn how to use this app (wouldn't make sense to paste manual here).
   8. Important! If you get some errors or program doesn't work as intended, don't wait! PM me about the issues or write on forum!
Screenshoot: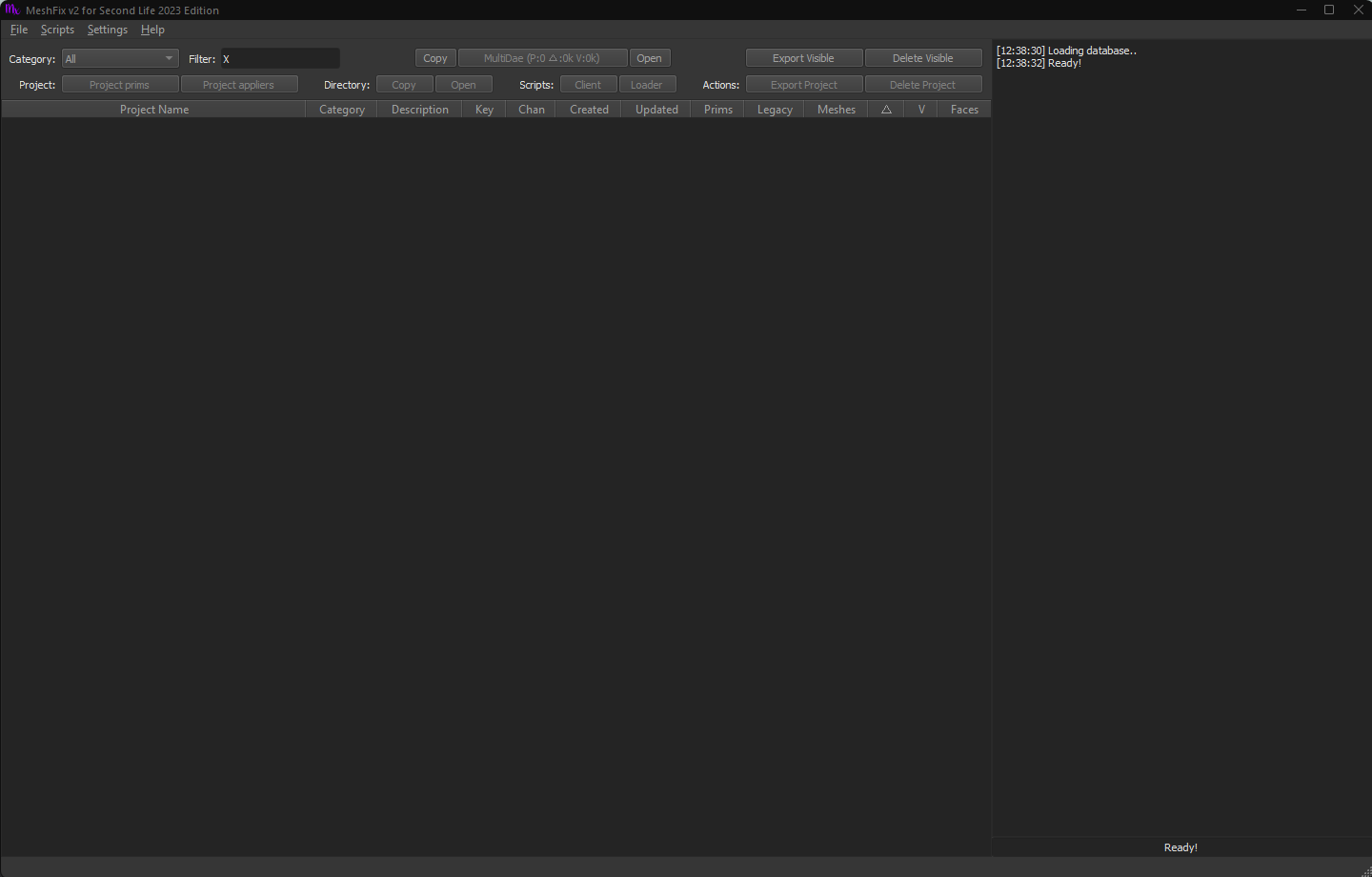 Safety
This program automaticly adds to the clipboard the address of the dae file so you can open mesh uploader without even having to leave the viewer. While this greately improves the ease of adding new meshes, this behaviour might make the antiviruses see it as malicious behaviour.
I assure you that this program is safe to use and all its functions serve only for the application to work properly.
Download
(Using bit.ly to count downloads)
Important! After you test this app, please leave the post in this thread about your opinions about it - it's really important to me! <3
Latest version: 2.0.3
Mega Link: 
[To see links please register here]
Old versions:
2.0.0: 
[To see links please register here]
2.0.1: 
[To see links please register here]
2.0.2: ​https://bit.ly/MeshFix202
Changelog:
[19.02.2023] Initial Release of 2.0.0 version
[20.02.2023] Update 2.0.1 - Added direct XML import, fixed Darkstorm (and possibly some other viewers) import issue
[24.02.2023] Update 2.0.2 - Fixed the bug with missing description in the XML
[07.03.2023] Update 2.0.3 - Fixed import errors happening for prims with '<' and '>' chars in them, fixed float reading crash